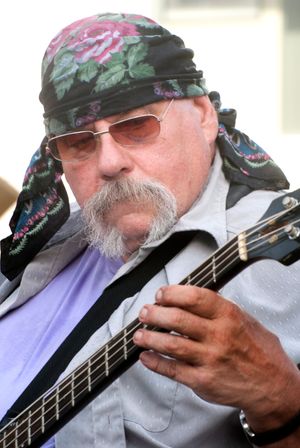 Larry Leach is a self-described "Son of the 60's".  He mowed lawns to buy his first guitar in 1965 just before the Beatles landed.  His love of R & B and Soul Music led him into the early 70's Cleveland music scene and he has been playing in local acts ever since.  His musical chops range from Kiss to Sinatra, Roy Acuff to Rick James
 
"Success in the music business means different things to different people", says Larry.  "It hasn't made me rich, but I've had a gig every weekend and made a lot of people swing and dance".  These days, Larry states a preference for "chair dancers".
 
In 2008, while recovering from a hip replacement, Larry ran into some old friends looking for a singer for their blues band.  Of the five original members there were four hip replacements and thus the Steel Hip name was born.  Today, says Larry, I have the perfect group of people.  "We have the "chops" to play any song we want, we all like the same music, we're all old enough to manage our own egos, and we all want to play as often as possible.  What's not to love?"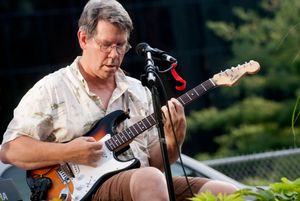 Stewart Lenox made his first guitar when he was in the 10th grade and plays the third guitar he built in the trio.  As an industrial designer Stewart has many musical gadgets on his resume. 
 
He was in his first band Oddyssey in the 6th grade, followed by Lennex post High School.  Then in college there was "The Max Alvis Band" which was mostly an originals band that played in Kent and surrounds.  He joined the group MPB (male pattern baldness) 14 years ago as the token "hair guy". 
 
Stewart currently plays in the rock band Acid Raincoat in addition to his work with Steel Hip. 
 
Stewart counts many music styles among his likes and influences including fifties music, southern rock, blues and fusion.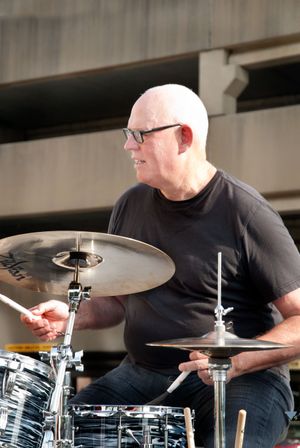 Jack Woodyard grew up in a musical family with organ and piano ever present, and the latest Broadway hit playing on the turntable in the console TV.  Jack's drumming goes back to high school but it is in the past ten years that Jack got serious about learning the craft.  

He considers himself fortunate beyond words to have hooked up with the likes of  Leach and Lenox, whom he considers "masters". 

Jack's path was through a naughty adolescence in South Florida in the '60's where the Kinks, Blind Faith, Cream and Jimi Hendrix ruled, to Europe and the Middle East soaking up the music of many cultures.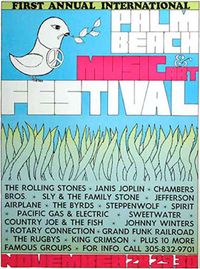 The Palm Beach Pop Festival in 1969 was a defining moment for Jack when the music of Johnny Winter, Canned Heat, the Rolling Stones, Janis Joplin, and Spirit entered his cranium and never left.  

Jack is now living his dream and wants to share it with everyone.